Professor Caroline Slomp elected Geochemistry Fellow
NESSC-researcher Caroline Slomp (Utrecht University) has been granted the honorary title of Geochemistry Fellow 2020 by the Geochemical Society (GS) and The European Association of Geochemistry (EAG).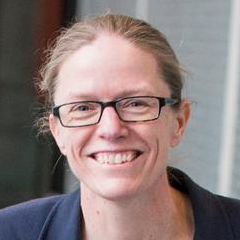 Scientific eminence
The title Geochemistry Fellow is bestowed annually upon outstanding scientists who have made a major contribution to the field of geochemistry. The Geochemical Society and The European Association of Geochemistry believe that it is "important to recognize the broad spectrum of scientific achievements that advance geochemistry. Excellence should not be limited to major discoveries and ideas that change paradigms, and not solely evaluated on the basis of the number of papers published in high-impact journals; the nominee's h-index and previously obtained distinctions; nor the amount of funding acquired. Instead, we recognize that scientific eminence, achievement and impact also includes contributions that create a dynamic environment essential for scientific progress."
Geochemistry Chair
Prof. dr. ir. Caroline Slomp is professor in geochemistry at Utrecht University. She is internationally recognized and elected as fellow for her fundamental and lasting contributions to the integrated understanding of the marine biogeochemical phosphorus cycle in modern and ancient marine sediments, as a harbinger for an unusual number of big advances in marine biogeochemistry, and her extraordinary mentorship role in the community.
Previous laureates
Slomp is lead scientist of NESSC's research theme into greenhouse gas sources and sinks. Slomp is the fourth NESSC-researcher elected Geochemistry Fellow. Previous laureates are prof. dr. Jaap S. Sinninghe Damsté,  prof. dr. Stefan Schouten and prof. dr. Jack Middelburg.