Darwin & NESSC Days: a Two-day Conference
Join for free, and get to know your colleagues at the Darwin Centre and NESSC.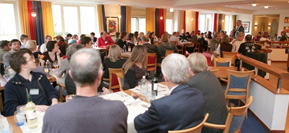 A two-day conference including drinks, dinner and overnight, organized by NESSC, the Darwin Centre and SIAM.
On November 20th you'll start your morning with a cup of coffee and an opening speech from prof. dr. Jack Middelburg. What follows is a day full of opportunities to listen and talk to colleagues, and having dinner and drinks together. After a night of good sleep the conference continues until halfway through the afternoon, so you'll be home right on time for dinner. Check the programme for details.
Location
Hotel NH Noordwijk Conference Centre Leeuwenhorst

Transportation
The hotel has plenty of opportunities for parking. Information on public transport will follow.
Enrollment
To participate in this event, the only thing you have to do is fill in this form. After we have checked your registration, you will receive an confirmation email and the latest details